Health Centers Invited to Participate in #VaxUpAmerica Efforts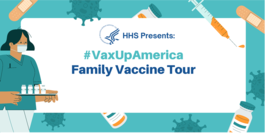 HHS is working with national and community-based organizations to reach families where they are with information on COVID-19 vaccines. HHS will host pop-up vaccination events and distribute toolkits at venues such as Head Start provider locations, nursing homes, and health centers around the country.
If you'd like to partner with HHS to host a new or already planned #VaxUpAmerica Family Vaccine Day event in your community, let us know by 5:00 p.m. ET on Friday, November 18. HHS's involvement might bring a local or national HHS official to support and promote the event. Contact us at [email protected] with details about your event, including:
Health center name and address.
Event point of contact name, phone number, and email.
Brief description of the event and location.
If HHS is available to partner with you, someone from the Department will reach out.
The #VaxUpAmerica Family Vaccine Tour is a nationwide push to encourage families to get the updated COVID-19 vaccine for maximum protection going into the winter and holiday season. It followed President Joe Biden's announcement of Additional Efforts to Help Americans Get Their Free, Updated COVID-19 Vaccine This Fall.
If you missed it, ACF, CMS, and HHS hosted a kickoff event featuring HHS principals and special presentations from trusted messengers on the updated COVID-19 vaccinations and department-wide efforts. You can watch and share the recording. HHS also provides resources that can support your efforts to get your community vaccinated against COVID-19.