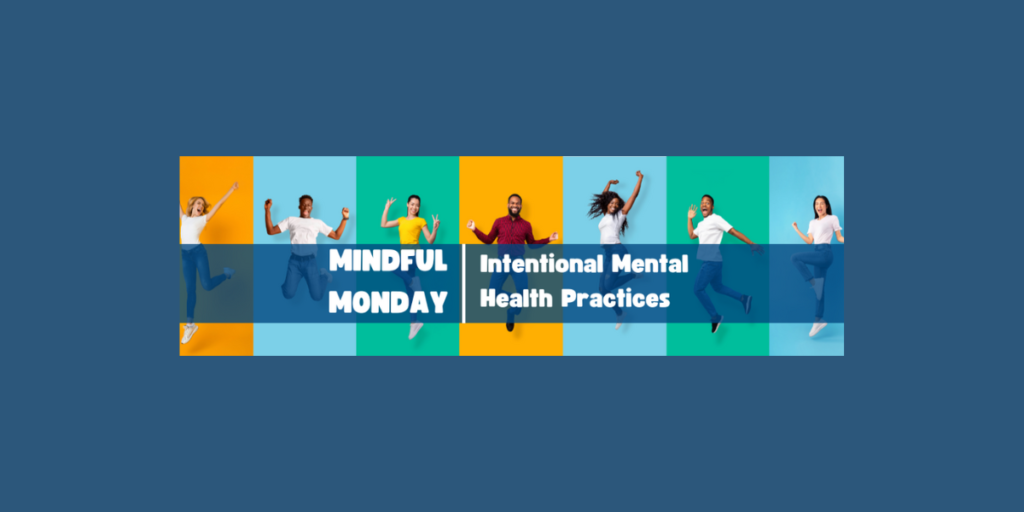 Mindful Monday – Intentional Mental Health Practices — Webinar

Take a few minutes this summer to explore the benefits of developing or expanding a personal mindfulness practice, by joining us for our bi-weekly experiential mindfulness training.  This is a great opportunity to try different activities and practices, and to acquire mindful tools and skills to apply in your everyday life either personally or professionally!   
Studies show the practice of mindfulness can reduce stress levels, help us manage our emotions and reactions, tune in better to how we and others are feeling, and cultivate compassion for ourselves and others. This helps us make wiser choices, can boost our relationships, and mean we feel happier and calmer. 
 
According to the American Psychological Association (APA) a mindfulness practice can help with the ability to relate to others and oneself with kindness, acceptance, and compassion. 
By connecting to themselves, individuals have reported having stronger social connections and reduced feelings of loneliness and isolation. 
 
This series of Mindful Monday sessions will feature a wide range of evidence-based practices from different disciplines, related to Self-Compassion, Intentional Visualization, and Creativity.  
 
This is a 30-minute interactive training that begins on June 26th and will run every other week through September 25th, 2023,  
 
Each month will have a specific theme/focus with exercises from that discipline. At the beginning of each session, participants will spend a few minutes grounding and learning about the practice for that day and then spend approximately 15-20 minutes in experiential practice, leaving a few minutes at the end for reflection and discussion.  
---
Dates
---
All sessions are scheduled from 12:00 pm MT/1 pm CT – 12:30 pm MT/1:30 pm CT
The monthly themes and dates for the training are as follows:  
 
July – Compassion  
7/10  
7/24 
 
August – Intentional Visualization 
8/21
8/28
 
September – Creativity
9/11 
9/25 
 
Participants only need to register once to be able to attend any number of sessions. The same link will be used for all sessions. Upon completion of your registration, you will receive the session link in a confirmation email.