Optimizing Clinical Workflows in HCV to Achieve HCV Micro-Elimination in West Virginia
Date/ time: Tuesday Nov. 30, 2021 from 5:30 – 7 PM EST
West Virginia, a state that has been ravaged by the opioid epidemic, currently has the second-highest rate of hepatitis C virus (HCV) infections in the United States. State-level efforts to achieve HCV elimination have been derailed by the COVID-19 pandemic. Local healthcare teams can benefit from a detailed assessment of regional patient-, provider-, and system-level needs and the implementation of customized team-based action plans for tackling gaps across the HCV care continuum.
Don't miss this highly interactive workshop! A boots-on-the-ground HCV expert will walk interprofessional teams through local patient and provider survey findings and review the latest clinical evidence and guidelines. Participants will be encouraged to:
Review real-world data to assess local gaps and unmet needs
Identify action plans to close persistent gaps
Set benchmarks to ensure the highest quality HCV screening, care, and counseling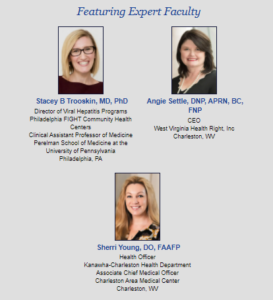 To RSVP, click the following link:  livecme.org/HCVWorkshop3
This activity is provided by PRIME Education. There is no fee to participate. This activity is supported by an educational grant from AbbVie, Inc.