Visit Learn More Breathe Better®'s
for new resources! 
Help raise awareness about how people can manage their asthma and live healthy, active lives.
Visit the toolkit at www.nhlbi.nih.gov/AsthmaMonth for: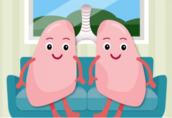 Social media posts and graphics in English and Spanish
Animated GIFs on managing asthma
An infographic and article on asthma in children
Tips for living with asthma and an asthma action plan
Asthma prevalence in your state
Videos and more!
Don't forget to tag @BreatheBetter and use #BreatheBetter in your social media posts!