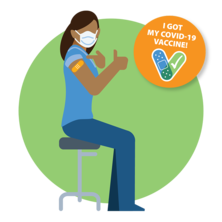 Due Sunday: Expanding COVID-19 Vaccination Funding Application

Due Sunday: Expanding COVID-19 Vaccination Funding Application Submissions
Health centers have until Sunday, January 8, to submit information about Expanding COVID-19 Vaccination (ECV) planned activities and costs in HRSA's Electronic Handbooks (EHBs). See the ECV technical assistance (TA) webpage for submission guidance, steps to add your H8G grant to your EHBs portfolio, and a recording of the question and answer session.
Review the frequently asked questions, which we will continue to update. Here are two questions we added on Tuesday, December 27, 2022, to clarify allowable uses of funds for personnel:
"Can I reallocate salaries to ECV from another funding source, in order to support ECV activities?"
"Can I use ECV funds for bonuses or overtime pay?"
TOMORROW is HRSA's final ECV office hour. Given the short timeline, attending is the most efficient way for you to get the answers you need. In addition to getting answers to your questions, you will hear from a health center about their strategies for using ECV funding to increase access to and confidence in the COVID-19 vaccine.
Wednesday, January 4
2:00-3:00 p.m. ET
Registration page