Please join us on Thursday, April 21, at 3 p.m. EDT for the "Advancing Asthma Outreach and Research: A Learn More Breathe Better® Webinar".
This webinar will highlight the many resources the Learn More Breathe Better program has created to mark May's National Asthma and Allergy Awareness Month.

We will be joined by the following guest presenters from organizations in the Breathe Better Network:
Bonnie Joubert, Ph.D., of the National Institute of Environmental Health Sciences, will present about their work on the intersection of climate and lung health.
Tonya Winders, MBA, of the Allergy & Asthma Network, will present on their Living Well with Asthma series and the organization's work on asthma and COVID-19.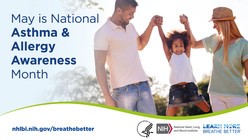 In health,
The Learn More Breathe Better program team