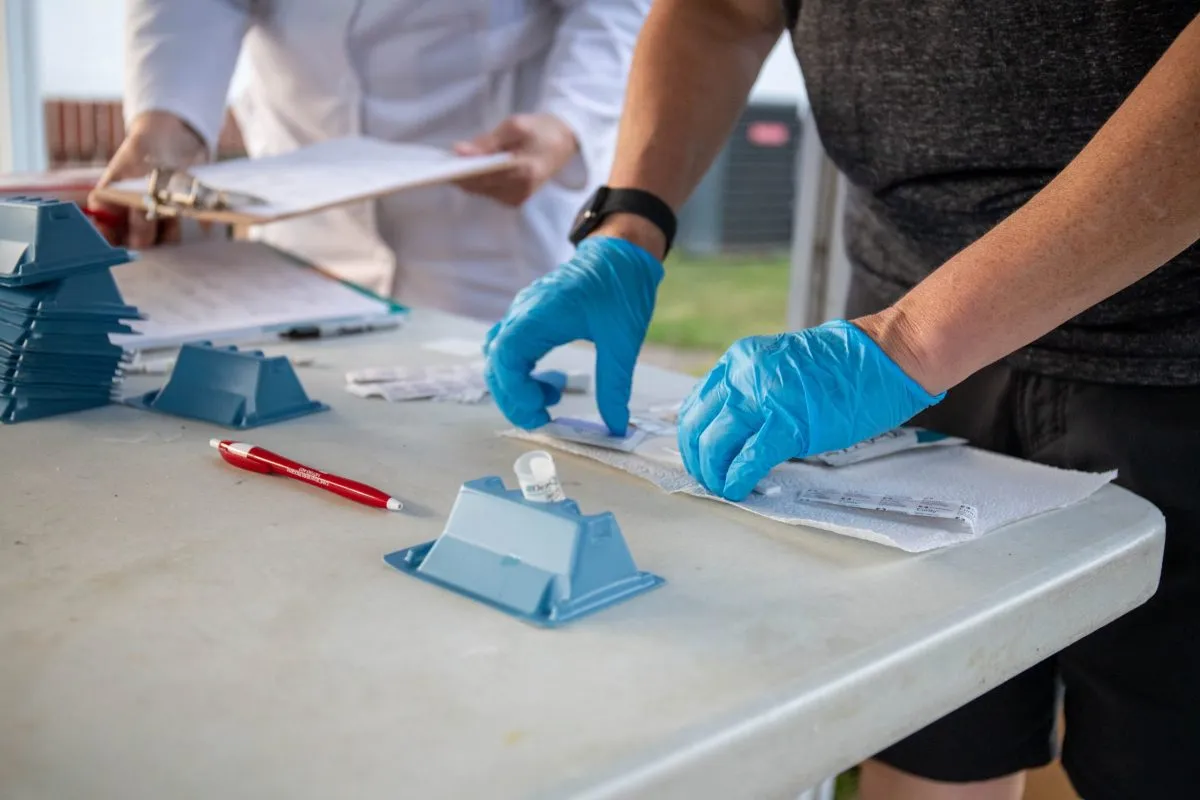 Last year, for the first time since 2015, West Virginia health officials detected HIV in rural Taylor County. And that county isn't alone: as officials are still trying to get outbreaks in the state's more urban areas under control, the virus is popping up in new places. New HIV cases were found in 29 West Virginia counties last year. For eight of those counties, it was the first case in recent years.
The exact number of cases isn't public: to protect privacy, the Department of Health and Human Resources will only say it's somewhere between one and four. But it's not just the public that's in the dark about the prevalence of HIV in the county.
"I don't receive that information," said Nelda Grymes, nurse director at the Grafton-Taylor County Health Department. "Unless we test the person, we don't know anything about it. That goes for any sexually transmitted disease in this entire state."
As state resources are concentrated on ongoing HIV outbreaks linked to drug use in counties like Kanawha and Cabell, health officials like Grymes in rural counties lack key information about the extent of the problem within their borders. 
Few people are focused on understanding the true scope of infectious diseases associated with drug use in these counties — even the counties themselves because they don't know what's going on. And even if they did, they're up against new laws that make it harder for them to address the problem with harm reduction programs and a state approach that is geared toward reacting to outbreaks, not preventing them. 
The result is a spread of HIV around West Virginia.
"When I look at these numbers, what I'm seeing is a statewide problem. Because now we've got cases in places like Mason and Pocahontas and Mineral," said Robin Pollini, a substance abuse and infectious disease epidemiologist at West Virginia University. "And to me, that calls for a statewide testing strategy. Because this is no longer Kanawha and Cabell's problem, we're starting to see cases in multiple counties."
Missed communication
HIV attacks the body's immune system and can be highly infectious, especially through the sharing of syringes. But the virus' effect on the body can be controlled with proper medical treatment. For the last few years, West Virginia has been facing an HIV epidemic associated with injection drug use.
HIV cases in West Virginia rose sharply in 2019 and have been elevated ever since. Last year the state had 147 new HIV diagnoses, nine more than in 2020. Kanawha, Cabell, and Berkeley counties accounted for 100 of those new infections. The county with the next-highest number of new cases — five — was Mason County, which had recorded zero in the previous year.