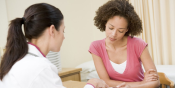 Women's Preventive Services Initiative Overview Webinar

HRSA's Office of Intergovernmental and External Affairs and the Maternal and Child Health Bureau are hosting a webinar on the Women's Preventive Services Initiative (WPSI) on Tuesday, January 24, 3-4:30 p.m. ET, in collaboration with the American College of Obstetricians and Gynecologists (ACOG).
Learn about the Women's Preventive Services Guidelines, HRSA's cooperative agreement with ACOG to develop, review, and update recommendations for women's preventive healthcare services, and opportunities to support implementation of the current recommendations into standard clinical practice. Featured speakers include two WPSI Advisory Panel members: Dr. Diana Ramos, California Surgeon General, and Susan Kendig, Director of Policy at the National Association of Nurse Practitioners in Women's Health.