Local Organizations Partner for Community Health Fair
Local Organizations Partner for Community Health Fair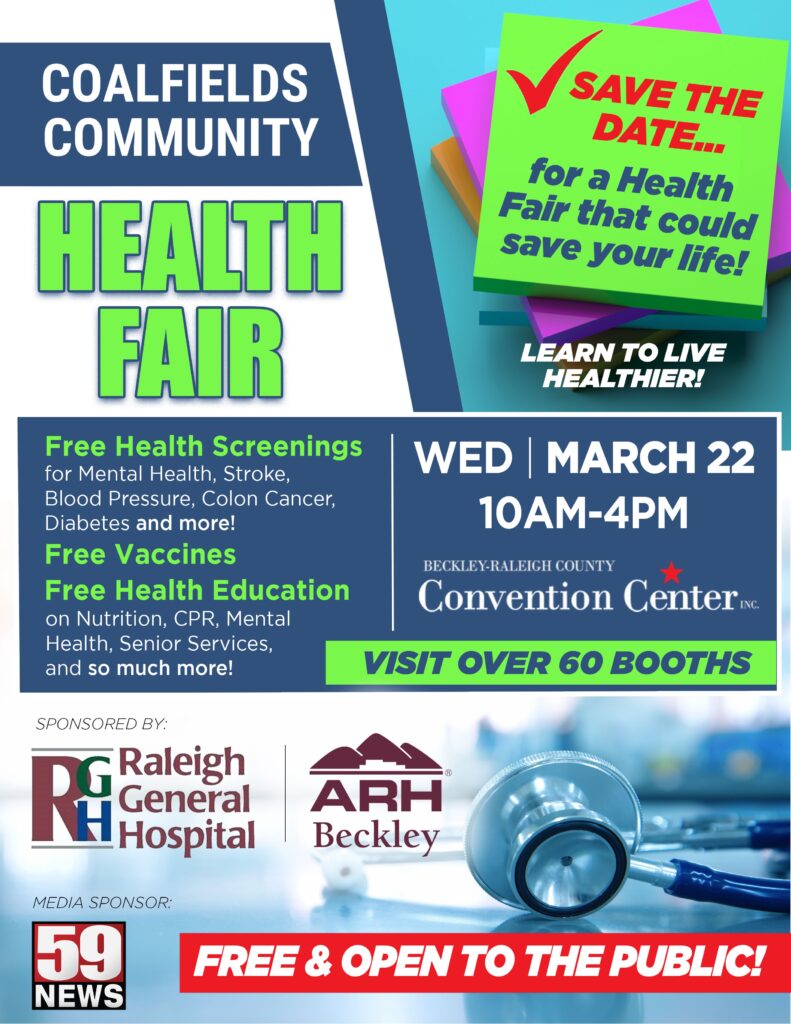 BECKLEY, W.VA. – Raleigh General Hospital, Beckley ARH and agencies with the Beckley Partnership for Community Health will join forces to host the Coalfields Community Health Fair March 22 at the Beckley-Raleigh County Convention Center.
COVID has taken a toll on our community in more ways than we could ever imagine. Shelia Barnett, a leader of the Beckley Partnership for Community Health believes, "Primary Care is so important to maintain your overall health and wellness and to identify, treat, and manage any potential risks before they cause more serious issues. The need in our area is strong and as a collective, we are committed to getting back into our community and putting our health first."  
The fair is expected to include more than 50 booths offering a variety of free health screenings for conditions such as mental health, stroke, colon cancer and diabetes. Visitors can also receive free vaccines and educational information on topics such as nutrition, CPR, senior services and medications.
RGH Case Management Director Tammy Hall-Richardson said reminding the community we are here for them, not just on your worst day, but always. She went on to say, "bringing health education and information directly to the community is an ongoing priority. We are pleased to be hosting this event with Beckley ARH and other agencies in the area to make a positive impact on the health of our community."
ARH Regional Community Development Manager Kelly Elkins said she hopes to see a large turnout for the event.
"We at Beckley ARH are excited to work with Raleigh General Hospital, the Beckley Partnership for Community Health and other area organizations to help improve the lives of our local residents," Elkins said. "We encourage everyone to stop by and learn more about the variety of resources available right here in southern West Virginia."
The Coalfields Community Health Fair will take place March 22 from 10 a.m. to 4 p.m. Anyone interested in participating is asked to contact [email protected]