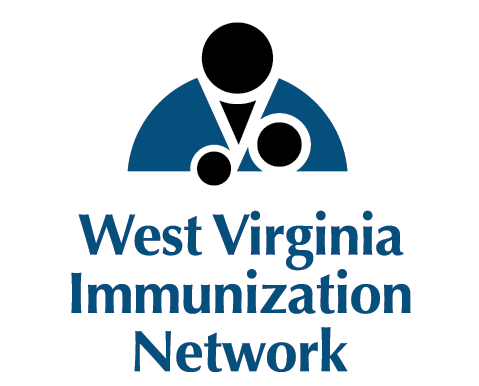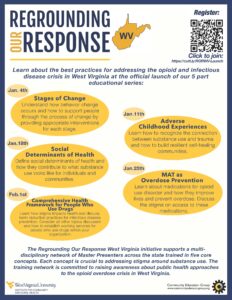 The Regrounding Our Response West Virginia Initiative supports a multi-disciplinary network of master presenters across the state trained in five core concepts. Each concept is crucial to addressing stigma around substance use. The training network is committed to raising awareness about public health approaches to the opioid overdose crisis in West Virginia.
MISSION The mission of Regrounding Our Response West Virginia is to educate students, communities, health professionals and other stakeholders on the existing harm reduction best practices for people who use drugs and to promote development and implementation of these practices into existing services and programs available in West Virginia.
VISION The Regrounding Our Response West Virginia curriculum envisions a future in which all West Virginians have effective treatment options available for substance use disorders that decreases negative outcomes and overdose deaths resulting from drug use.
Our strategic goal is to engage in meaningful conversations with West Virginians about optimizing services and reducing substance-related overdoses and deaths in the state.
COLLECTIVE IMPACT With Master Presenters in every region in West Virginia dedicated to completing four community presentations, our collective impact will:
– Reduce stigma and discrimination experienced by people who use drugs
– Build support for evidence-based approaches
– Reduce substance-related morbidity and mortality
CURRICULUM
Learn about the best practices for addressing the opioid and infectious disease crisis in West Virginia at the official launch of our new 5 part educational series:
January 4th, 2021, 1:00 PM ET: Stages of Change Understand how behavior change occurs and how to support people through the process of change by providing appropriate interventions for each stage.
January 11th, 2021, 1:00 PM ET: Adverse Childhood Experiences Learn how to recognize the connection between substance use and trauma and how to build resilient, elf-healing communities.
January 18th, 2021, 1:00 PM ET: Social Determinants of Health Define Social Determinants of Health and how they contribute to what substance use looks like for individuals and communities.
January 25th, 2021, 1:00 PM ET: MAT as Overdose Prevention Learn about medications for opioid use disorder and how they improve lives and prevent overdose. Discuss the impact of stigma on access to these medications.
February 1st, 2021, 1:00 PM ET: Comprehensive Health Framework for People Who Use Drugs Learn how stigma impacts health and discuss harm reduction practices for infectious disease prevention. Consider all the other topics discussed and how to establish working services for people who use drugs within your organization.
Register for the January training series